SHOWROOM NEWS
Arc-Com Introduces Four New Performance Fabric Patterns
An air of excitement surrounds the Arc-Com Design Studio's most recent performance fabric pattern introductions: Aura, Angle, Elements and Hove.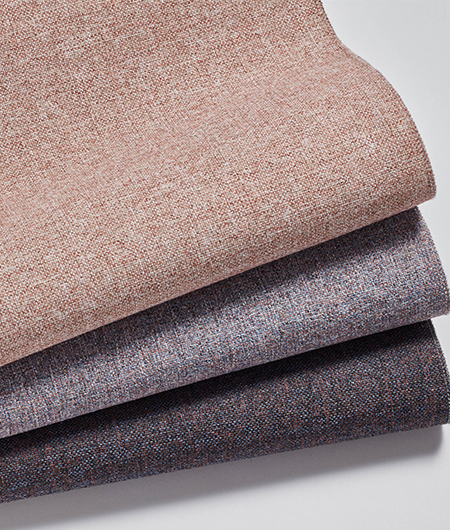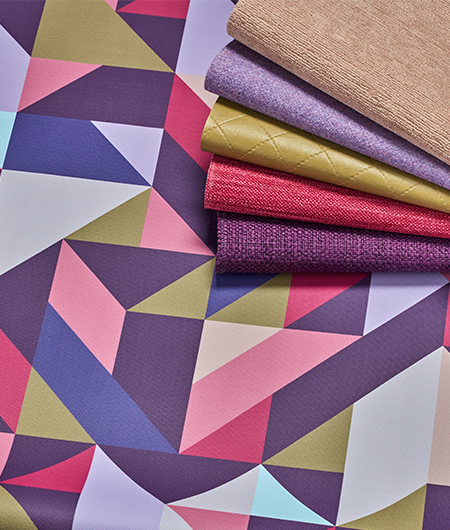 Aura
Capturing the look and feel of a high-end worsted wool, Aura offers a performance polyester in a truly elevated aesthetic. A multicolored twisted yarn running in both the warp and weft directions, creates a beautiful heathered surface with subtle color shading and a heightened dimension. Aura finds its color inspiration from the beautiful Scottish Highlands — a region known for its wool production. This comprehensive pattern, with 19 colorways, includes an earthy range of warm and cool blues, greens, and greys, and stony neutrals.
Angle
The triangle becomes the muse in pattern Angles multicolored menagerie of shapes. The juxtaposition of form and color placement within the pattern's layout creates energetic visual movement within the design. Angle's fractalized geometry becomes the perfect vehicle for extensive color exploration and play. Included in this 14 sku palette are a primary, a range of teal, blue, greens, a red-orange paprika, a golden butterscotch and both warm and cool grey offerings. This visually enticing, bleach cleanable vinyl is phthalate free, flame retardant and anti-microbial free and compatible with a host of commercial grade cleaners.
Elements Collection
The Arc-Com Design Studio found its inspiration in the earths surfaces and natural geological forms when conceptualizing its new privacy curtain offering, aptly named the Elements Collection.  This group focuses on the unique textures and the intricately formed layers that occur in the surfaces of our planet. The collection includes three patterns that seek to transform healing spaces with positive connections to the design forms found in the natural world, reflecting biophilic design principles and offering a beautiful group of organic pattern and texture. All three patterns in the Elements Collection are stocked with the X-Static antimicrobial yarn and are comprised of over 50% recycled content.  The analogous palettes and textured sensibility found in the collection makes it conducive to mixing and matching the different patterns within the same facility. Learn more about each pattern in the collection at arc-com.com.
Hove
A crisp, flowing, yet organic woven netting textural design, highlighting the multi-dimensional layering of sheer netting woven fabric, Hove provides a luxuriously bold and dramatic wall treatment. Inspired by the layering of multi-dimensional sheer woven fabric, billowing in the wind, provided by an open window looking out to the sea in the ancient fishing village of Hove, on the south coast of England, the random layering and twisting of the sheer fabric and crossings of lines, integrates luster and texture to create an organic yet intriguing creative inspiration. Hove provides texture, color, dimension and depth to adorn walls across myriad market segments in hospitality, workplace environments, retail, healthcare facilities, and public space settings.
Arc-Com is a leading designer, manufacturer and supplier of design-driven, high-performance textiles and wallcoverings for the corporate, education, hospitality, healthcare, and commercial markets. To learn more or make an appointment to visit the Arc-Com showroom in the New York Design Center, located on the 14th floor, visit nydc.com/appointment.