Gallery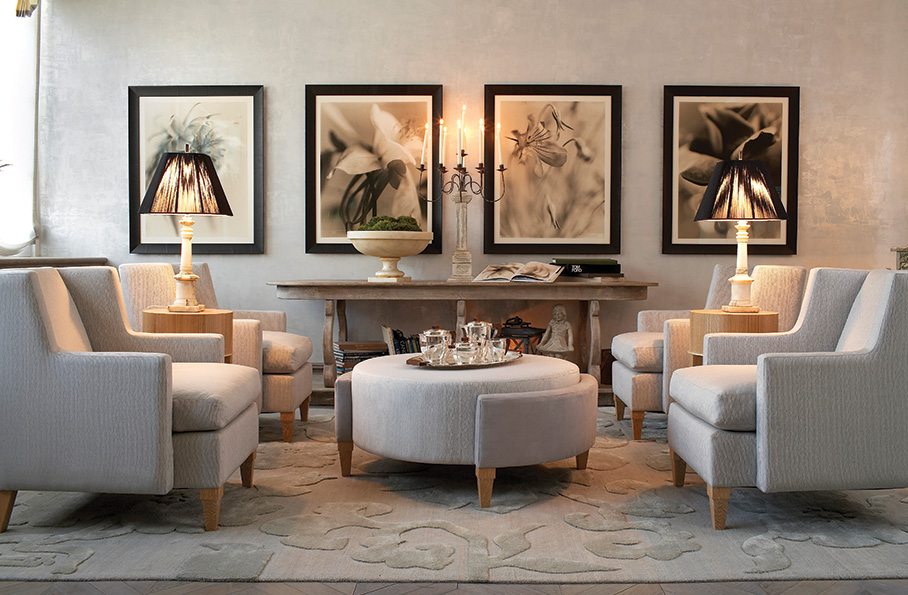 Interview
Why use a designer?
As a client you are more than recompensed by the direction received, the realization of your vision, and the avoidance of costly mistakes.
Why shop the trade?
The trade can offer superior quality of furniture, textiles, lighting and accessories; the ability to customize most items in almost every way, and the abundance of variety and style.
What is your most valued design tip?
Be mindful of everything you see, whether in nature, on the street, in a magazine or a showroom. Ideas and inspiration are everywhere.
What makes your style unique?
We pride ourselves in not attaching our design to any particular style or trend.  We create spaces that are classic and timeless while making our clients feel comfortable and unique with an uncluttered freshness.
Who is your design icon and why?
Shelton-Mindel for clean, crisp, timelessness; John Saladino for livable glamour and Mariette Himes-Gomez for classic style.
Who is your favorite fashion designer?
Giorgio Armani, Calvin Klein, Ralph Lauren, John Varvados.  Billy Reid, and Doyle Mueser.
What is your ideal getaway/escape?
When the three of us can escape to the infinity pool at a little farm south of Siena and bask under a Tuscan sun.
What is your favorite movie set?
Diane Keaton's Hampton home in "Something's Gotta Give", Meryl Streep's Sonoma Valley home in "It's Complicated", or the speech therapist's atelier in "The King's Speech."
If you could live in a different time period, when would it be and why?
The 1900's through the 1960"s because it was such an exciting time in the design world.
Name three things you cannot live without:
Lee:  Our daughter, my MAC, and a number two pencil
Rick:  Emmy, Lee and a sense of humor
What is your greatest indulgence?
Lee:  A 14" cheese and sausage pizza with a Sprechers root beer float
Rick:  An Aveda aromatherapy facial