SHOWROOM NEWS
A New Season Brings New Fermob
Spring is here and so is the redesign of Fermob's showroom at 200 Lex featuring their latest additions.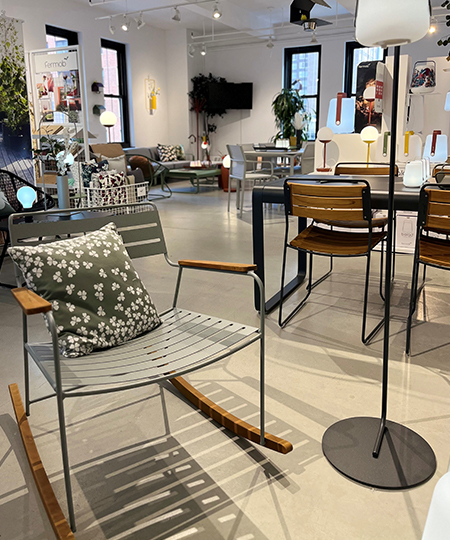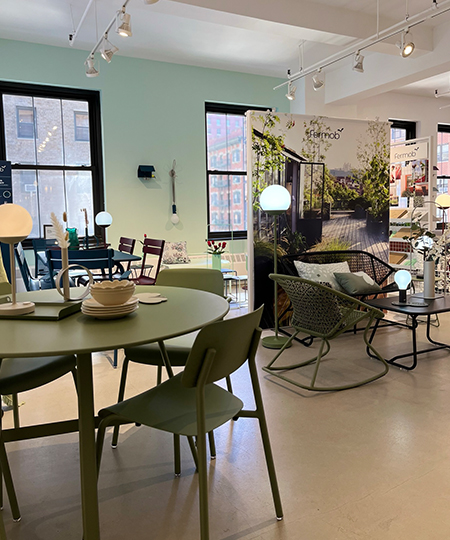 Fermob's 2023 color: Lapilli Grey, composed of two shades of grey to create a speckled effect. Inscribed in mineral, this new exclusive color evokes stone and nature in its raw state, adding depth to the traditional textured finish.
Hurry and discover the deep nature of Lapilli Grey through an artistic and unique staging on the Surprising rocking chair, also a new addition to our collection.
Created by the designer Harald Guggenbichler, the rocking chair takes the collection's trademark wire structure and highlights the path of the steel rod, outlining the piece in a single stroke. Minimal material for a light, airy shape and a curved, enveloping line, providing optimal balance for the best possible comfort!
The So'o Table:
With its minimalist style, combining rounded curves and geometric lines, the SO'O table is a new creation by the Fermob Design Studio. This table comes in a sociable format seating 6 people, for gathering together friends and family either indoors (dining room or kitchen) or outdoors on a terrace or in the garden. Its timelessness guarantees perfect coordination with all seating in the Fermob catalogue.
The Luxembourg Compact Bench and Luxembourg Garden Bench:
Iconic and timeless, the LUXEMBOURG range reinterpreted by Frédéric Sofia now includes a new 2-seat compact bench with more than one surprise up its sleeve! The light aluminum frame makes it exceptionally easy to move around, further helped by the bar of its backrest, which serves as a handle. Ideal for small spaces and exceptionally strong, it can be moved around as required and is equally at home both indoors and outdoors
As for the Luxembourg garden bench, inspired by 2-seater dining bench, the seating angle of this garden bench has been modified and armrests have been added for greater comfort. Like the rest of the collection, this bench is made of 100% aluminum for strength, lightness, and resistance to corrosion – plus, it's easy to move noiselessly thanks to its silencing feet.
The Cocotte Stool:
The COCOTTE collection has had a baby: the stool! Unlike the low three-legged tables, the stool has 4 legs, not only for stability but also to assert its individualism, despite its many similarities to the rest of the COCOTTE line. It really is adventurous. Lightweight and portable, it can be used anywhere: as an extra seat at the table, in the lounge areas or even as a side table.
Picolino Plant Holder:
Strictly speaking, PICOLINO is a plant holder for potted plants. However, its compact and practical appearance, plus its wide range of colors from the Fermob color chart, make it ideal for any number of uses: small bookshelf, magazine rack, bottle holder, shelf for displaying decorative objects, etc. The epitome of multifunctional, it is the ideal occasional furniture for an outside terrace, balcony, or small urban space
Picoti Bird Feeder:
Nature lovers won't be able to resist the bird feeder, an essential shelter, both in summer and winter. Designed by Catherine Sofia, this both decorative and functional accessory pays homage to nature
Visit Fermob on the 4th Floor of 200 Lex to see the entire collection.