SHOWROOM NEWS
Arteriors Launches Spring/Summer 2021 Collection
This week, Arteriors introduces its new Spring/Summer 2021 Collection featuring a variety of timeless, yet of-the-moment luxurious lifestyle pieces that embrace the past, present and future.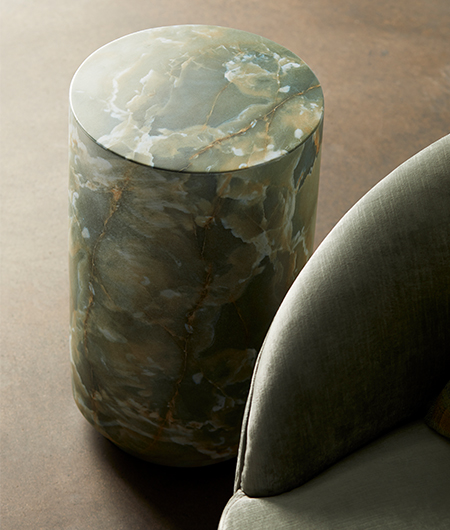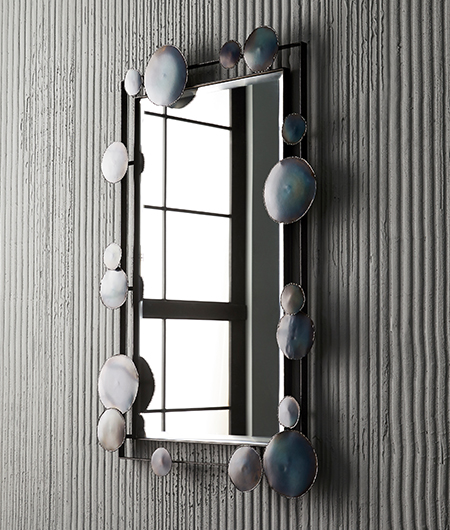 Raw materials and storied techniques matched with new finishes and modern inspirations showcase a growing desire for balance. Striking balance has a particular importance this spring as the design community strives to define a better sense of restoration and authenticity for ourselves and the work we do—one that pleases the eye, the soul, and the artist within.
Embracing a beautiful symbiosis between nature and object, handmade and machine, raw and defined, imperfect but impeccable, the Arteriors Spring/Summer2021 Collection includes more than 350 new pieces. Highlights include:
Gustavo Chandelier: The Gustavo grandly reimagines the traditional brass chandelier shape in a new material—glass. A sleek antique brass pipe presents an all-glass construction, hand-blown by glassmakers who captured the artistry of vintage Italian Murano glass. A smokey hue finish gives it a moody quality that is further enhanced by its 10-light setup. This balance between classic style and modern design allows the Gustavo chandelier to function in various settings.
Hazma Chair: Concentric layers of thick, palm gray rattan poles frame the foundation of this elegantly eccentric and wildly organic chair. The rounded arms seamlessly flow into a tightly wrapped pencil rattan back that sits low for maximum support. A comfy mink leather cushion completes the seat, elevating the look with an edgy appeal. Its natural aesthetic allows this piece to easily blend with existing décor. Available in Mink Leather (pictured), Marshmallow Texture, and Muslin.
Kensey Mirror: Showcasing a daringly organic form, the Kensey mirror establishes a strong presence though it is smaller in scale. The abstract form is crafted from natural coco midribs that are first stained in a dark gray finish then intricately woven in a wave-like pattern, and finally molded around an organic shape frame. This process creates an intense visual of undulated depth and dimension.
Gideon Lamp: The architectural arrangement of the Gideon favors designs created by famed American architect Frank Lloyd Wright. A bronze steel shade presents a curvilinear foundation of individual antique brass steel pillars fashioned to a solid white marble base. Its slightly vintage style and sleek profile make this ideal for a desktop in a study or library. Features a full-range dimmer. Complete with a taupe cloth cord.
Inaya Stool: Seating simplified. This overtly organic stool presents a curved form crafted entirely of rattan, and features dueling espresso and natural finishes intertwining in a hand-woven pattern. The Inaya is versatile enough to be an ottoman, an accent piece, and of course, an additional seating solution. Group multiples together to create the visual of a curved bench, and separate when you need the seat. Finish may vary.
Herbie Accent Table: A jade faux-marble finish instantly transforms the concrete construction of this accent table into a functional work of art. Light to green hues span the surface, gathering and dispersing alongside the simulated veining to create a look that will leave you transfixed. Its structural foundation anchors a room and provides the perfect platform for a tray of savories.
Grisha Centerpiece: When designing the Grisha, Arteriors looked to the Indigenous hand-weaving techniques long practiced in many cultures across the world. Each centerpiece is crafted by artisans who mold thin bendable rattan pieces into this unique concentric form. Natural and black-stained rattan make this an ideal addition to tablespaces in natural settings.
​Arteriors' expert product designers travel the world to uncover the storied techniques of master artisans, beginning elements of fashion and architecture to this new collection. The challenge of reinterpreting these inspirations yields a diverse collection that feels refreshingly new yet offers a familiar comfort. The touch of the human hand in every Arteriors product, the brand's signature, infuses each piece with the feeling of luxury.
The new collection will be on display in the New York Design Center in late April. View the full collection online at arteriorshome.com or contact Arteriors directly to make an inquiry or purchase.