SHOWROOM NEWS
Donzella Presents Clouds & Vessels: Works by Ceramic Artist Chris Gustin
Donzella Ltd., a curated gallery space located in the New York Design Center, announces Clouds & Vessels, an upcoming exhibition of select works by master ceramicist Chris Gustin.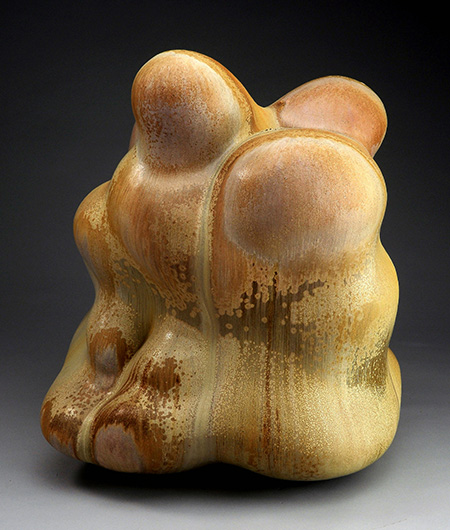 Gustin's first New York City show in over a decade, the exhibit will feature works primarily made in the last ten years. On display will be some twenty pieces, including platters and large-scale vessels, as well as sculptures from Gustin's Clouds series, an experiment in closed forms. The impressive scale, sensual forms, and remarkable color and glaze effects of the works highlight Gustin's masterful artistry, together with the characteristic melding of utilitarian, sculptural, figurative and abstract elements that have garnered his workplaces in museums and collections worldwide. Among these is the Shapes Out of Nowhere exhibition currently at the New York Metropolitan Museum of Art.
Gustin's work has been instrumental in propelling ceramics into the fine arts and design spheres. With a career spanning nearly half a century, Chris Gustin is one of the most renowned ceramic artists working today. His technical wizardry and vast experience in ceramic making has allowed him to experiment extensively with form, volume, and surface, pushing the boundaries of ceramics as an art form literally and figuratively.
In tangent with his sculptural concerns, Gustin's extraordinary glazes heighten the painterly dimension of his works, their rich translucent tones and color iridescence playing on their curvaceous surfaces. Unsurpassed in his mastery of glazing techniques, Gustin uses his own secret combinations of glaze, ash and metal oxides together with the ancient Japanese Anagama type of wood-firing kiln to achieve his definitive coloration effects, even more.
"I want my work to provoke image to the viewer, to suggest something that is just on the other side of consciousness," says Chris Gustin.
Clouds & Vessels will be on display in the Donzella Project Space showroom, located on the 15th floor of the New York Design Center, from May 12 – June 30. Contact Donzella today to learn more and make an appointment to visit the exhibition via phone or email: 212-965-8919; info@donzella.com.
About the Artist
Chris Gustin was born in Chicago in 1952 and raised in Los Angeles where his family worked in ceramics manufacturing. After two years running the family business of Wildwood Ceramics, he attended the Kansas City Art Institute, receiving his BFA in ceramics in 1975. Gustin went on to graduate school at the NY State College of Ceramics at Alfred University and received his MFA in 1977. That same year he established his first clay studio in Guilford, Connecticut. In 1978 Gustin received his first Artists Fellowship from the NEA. From 1979-1980 he taught at the Parsons School of Design in NY, and in 1979 had his first solo show. In 1980 he began teaching at Boston University as Assistant Professor of Ceramics, and is currently Professor Emeritus at the University of Massachusetts, Dartmouth. In the interim he has had over 30 solo exhibitions, been in numerous group shows, and has been the recipient of numerous honors, fellowships and grants, including two NEA fellowships. His works are in extensive collections nationally and internationally, and are documented in some 40 publications, including "Chris Gustin – Masterworks in Clay," the accompanying catalogue to his exhibition at the Fullerton Craft Museum, Brockton, MA. 2012-2013.