SHOWROOM NEWS
Fromental Introduces Six New Wallcovering Designs
As Spring quickly approaches, Fromental brings forward six new wallcovering designs that are beautifully handcrafted and sure to make any space feel alive.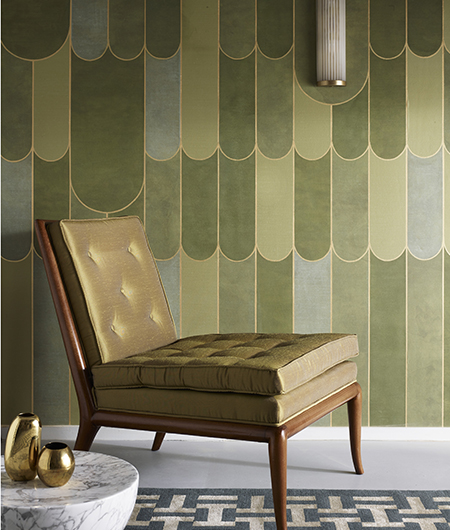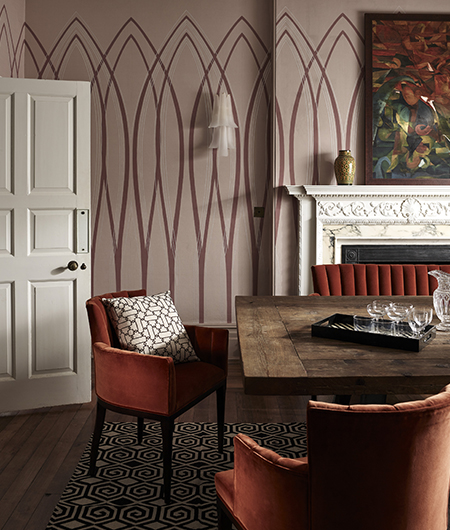 Fromental designs and produces beautiful, handmade, and often bespoke, wallcoverings that explore what imagination can bring to the walls around us. With their distinctly British style, they nudge historical classicism and 19th century Chinoiserie into the 21st century, alongside pioneering new techniques for more contemporary designs. We are inquisitive, playful, and, above all, Fromental believes that walls are surfaces for limitless decoration and self expression.
Find out all about the new designs below and visit the Fromental showroom on the 4th Floor of 200 Lex in Suite 427.
Flock: Fabled to live for thousands of years, cranes are symbol of good fortune and eternal youth. A modern take on the Rinpa School style, Flock is a captivating scene of majestic cranes elegantly dancing across the room. The dramatic landscape is created with contrasting pigment and metallic ink allowing for a bold backdrop to a wonderfully bold design.
Ogata: Ogata captures the Joy in Nature's four seasons with its undulating rhythm and graceful brush-strokes. Inspired by Japanese artist Tawaraya Sotatsu, the abstract leaves and blooming peonies are both delicate and powerful. Refined in a sitting room, charming in a bedroom and glorious in a garden room.
Coquilles: In a nod to the decadent era of Art Deco, blocks of colour are overlaid with varying intensities of pooled paints, within metallic scalloped edges. he sumptuous velvety texture adds richness to a large entertaining space while giving dramatic depth to a compact powder room.
Bamboo Lights: A graphic interpretation of light silhouettes dancing through bamboo stems, this enchanting design has a wonderful sense of movement. Simple yet versatile, Bamboo Lights strikes an expansive pose the vertical lines bring height to a low-ceilinged room and the horizontal rows add width to a narrow space.
Deco Arches: A powerful architectural design inspired by the inlay-leather bookbinding of Georges Crette inthe 1930s. The arresting pattern recalls the modernist style, fine craftmanship and use of rich materials of the era. As a simple,. large scale repeat, the bold pattern will fill a quiet room or support a heavily decorative scheme.
Paper Maquettes: Playfyl, bold, and mesmerizing, the layered curvilinear forms gambol across the wall with joyous freedom. Working best as a focal panel in a high ceilinged room, Terrazzo Gold or Palladian Ash energize the controlled lines of a contemporary sitting room while the softer Silver Birch or Tourmaline offer a warm welcome in a wide hallway or dining room.