INDUSTRY NEWS
Kips Bay Boys & Girls Club Announce Grand Opening of Fourth Annual Kips Bay Decorators Show House Dallas
The Fourth Annual Kips Bay Decorator Show House Dallas officially opens to the public on Friday, November 3rd in Old Preston Hollow's Sunnybrook Estates neighborhood. The house showcases the creativity and design expertise of twenty-two of the nation's most acclaimed interior designers and architects.
The Show House, which will be open to the public for two weeks closing on Tuesday, November 14th, doubles as the nation's leading design event of the year and a major fundraiser for the Kips Bay Boys & Girls Club as well as local Dallas charities Dwell with Dignity, and The Crystal Charity Ball. The Show House will be closed on Monday, November 6th and Monday, November 13th.
"The designers, architects and sponsors along with the entire Dallas design community have worked tirelessly to create this Show House and we're eager for everyone to visit," says James Druckman, President of the Board of the Kips Bay Boys & Girls Club.
The Kips Bay Decorator Show House Dallas co-chairs are Jean Liu and Chad Dorsey; Laura Lee Clark and Trish Sheats serve as vice chairs. Jamie Drake, Jan Showers and Veranda Editor in Chief Steele Marcoux are honorary chairs.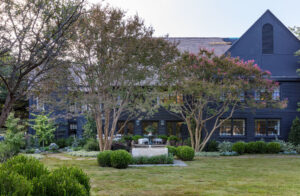 The 22 designers and architects participating in this year's Kips Bay Decorator Show House Dallas include:
Cathy Kincaid Interiors, Ltd.
Chad James Group
Darren Henault
Dodson Interiors
From The Ground Up
Jackson Paige Interiors
Jase Jones & Associates
Kirsten Kelli, LLC
KMNelson Design, LLC
Laura Lee Clark Interior Design
Mark D. Sikes Interiors
Melissa Gerstle Design
MORE+ Kurt Bielawski
Morgan Madison Design
MLK Studio
Pursley Dixon Ford Interior Design
Reverie Interior Design
Rivers Spencer Interiors
Sara Hillery Interior Design
Simms Hayes Design
Todd Events
Urbanology Designs
The sponsors for this year's Show House include Arsin Rug Gallery, Artistic Tile, Benjamin Moore, Bella Notte Linens, Brown Jordan, California Closets, Casci Plaster, Christopher William, Cowtan & Tout, Fabricut, il granito, JAMES Showroom, JennAir, Kohler, Loloi Rugs, New York Design Center, Perennials and Sutherland, Phillip Jeffries, Sewell, Sharland England, Soane Britain, Susan's Jewelry, The Joule Dallas Hotel, The Shade Store, Veranda, Staub, Zoffany Brand.
VERANDA serves as the Dallas Show House's national media partner. PaperCity serves as the regional media partner.
All Photography 2023 © Nickolas Sargent Photography