SHOWROOM NEWS
New Handcrafted Collection from The Rug Company: Ink Impressions
Introducing Ink Impressions from The Rug Company: A collection of six hand-knotted rugs that examine the fluidity, transparency, and versatile form of ink through bold and graphic designs.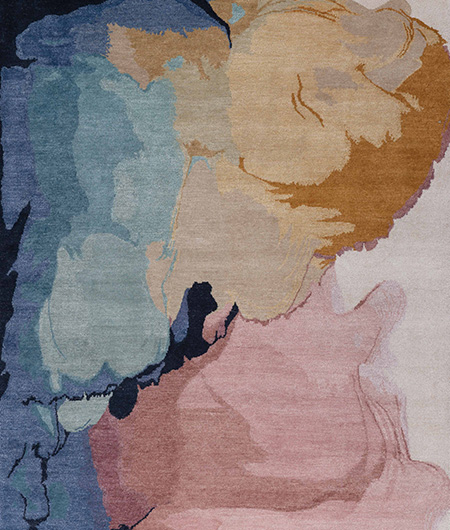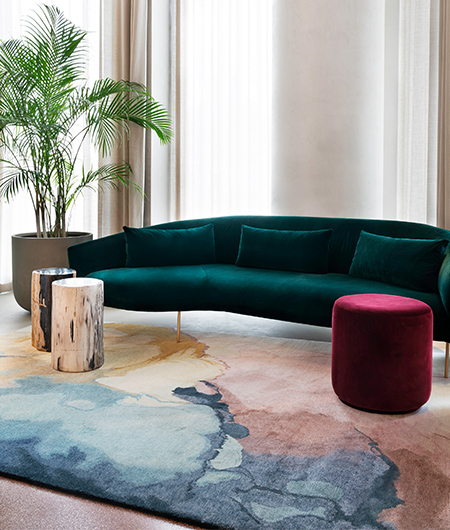 Taking inspiration from natural iconic landforms in North America, the collection represents a combination of unique design and organic lines that reflect colors uniquely found in the natural world.
Each rug is meticulously hand knotted from exceptional wool and silk by The Rug Company's master craftsmen in Kathmandu, Nepal. The six new designs in the collection include:
Caldera takes inspiration from Grand Prismatic Spring in Yellowstone National Park. The intense colors depict the depths and heat of the water as it cracks the lands surface. The soft warm motif meanders gently across the silken yarns of the rug encompassing bright bands of orange, green and blue water springs, that shimmer to create the illusion of movement.
Cove is inspired by the free-flowing waters of the McWay Falls as it enters and exits the narrow and restricted coastal inlets that shape the Big Sur coastline in California. The design focuses on the swell of water as it cascades over rock forms and pools. Crafted from the finest silk to create a fusion of deep hues of blue ranging from cobalt to the depths of midnight blue.
Mesa studies the delicate and intricate patterns found on the undulating rock formations in the Canyonlands of Southwestern America. Available in two colorways, one monochromatic and one in soft blues: Mesa Steel and Mesa Powder.
Alpine is inspired by the picturesque Canadian mountain ranges of Alberta and emulates the swift and silky movement of snow avalanching down from the snow-capped peaks. The striking white motif cascades and disperses across the sumptuous hand-knotted Tibetan wool soft grey background, creating a delicate three-dimensional effect.
Plateau draws inspiration from Monument Valley in Arizona, where the linear dispersal of the rocky elevated landforms rise sharply above the surrounding area. The bold silk lines are masterfully crafted to create a layered effect against a background of hand-knotted Tibetan wool.
As champions of the modern aesthetic, The Rug Company design studio is constantly pushing the boundaries of rug design to achieve an originality that is both beautiful and functional. From the bold and bright to the soft and muted, each design from The Rug Company has been thoughtfully considered to complement any interior.
To learn more visit, therugcompany.com/us, or make an appointment through the New York Design Center to see the Ink Impressions Collection on display in The Rug Company showroom, suite 1515.