SHOWROOM NEWS
New York Furniture Brand DESIRON Celebrates Next Chapter
Founded in 1997, DESIRON is a leading designer and manufacturer of high-end interior furnishings for the residential, hospitality, and commercial markets. Featuring a SOHO-inspired design spirit, coupled with the use of selective, high quality wood and metal finishes, DESIRON's products have been revered for their enduring beauty, simplicity, and functionality.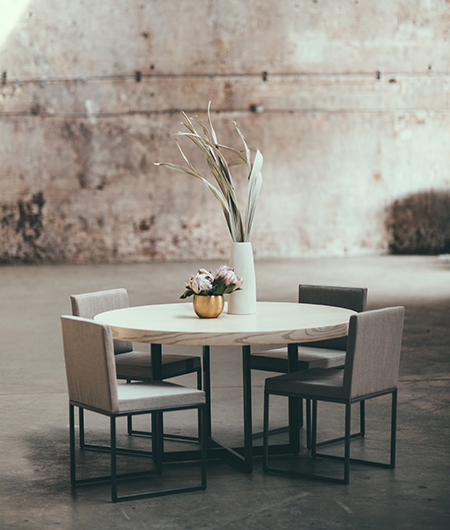 Today, the brand announces the sale of the company to Desiron Holdings, LLC, a new investor-led company. DESIRON's new shareholders intend to continue the company's longstanding tradition of design excellence, product quality, and collaborative partnership with the industry's leading design specialists, architects, and interiors firms.
DESIRON will be led by Courtlandt Pennell (CEO) and Jerry Sullivan (Chief Commercial Officer). Both Courtlandt and Jerry have extensive experience in furniture design and manufacturing and are excited to bring their expertise to the company. The new leadership team plans to capitalize on opportunities to both strengthen the company's overall supply chain and logistics capabilities, but also re-establish stronger and diversified ties to the high end residential, commercial, and hospitality segments of the market where DESIRON has enjoyed longstanding success.
Jerry Sullivan shares, "I am excited to work with Courtlandt and the entire DESIRON team to write this new chapter for Desiron. Our goals are simple; elevate the brand's legacy, improve our connectivity to the greater design community, and continue to design and create beautiful furniture that will enhance any space it occupies."
As part of the transaction, DESIRON's founder and sole shareholder, Frank Carfaro, will step aside from day-to-day management and assume a consultative role on product design. Frank will also continue to have an economic interest in the long-term success of the business as the new team seeks to strengthen the product offering and expand into new markets where DESIRON's unique aesthetic will enjoy commercial and design success.
"After nearly 25 years at the helm of this great company, I am thrilled to be able to turn DESIRON over to a new leadership team with the energy, capital, and vision to take the business to the next level," says Carfaro. "While I am moving on to pursue other opportunities, I will continue to be a contributor to the design aspect of the business and am totally aligned on the long-term success of the company, its employees, customers, and partners."
Desiron will maintain a showroom at the New York Design Center and will aim to expand representation across the US and globally in the coming year.
Visit the Desiron website to learn more, www.desiron.com, or follow the brand on Instagram @desironnyc.