SHOWROOM NEWS
Ngala Trading Introduces Spring 2022 Line of Ardmore Tabletop
Arriving stateside for the warmer months, the colorful line of tablecloths, napkins, coasters, and placemats feature new Ardmore patterns showcasing lush foliage of African wildlife.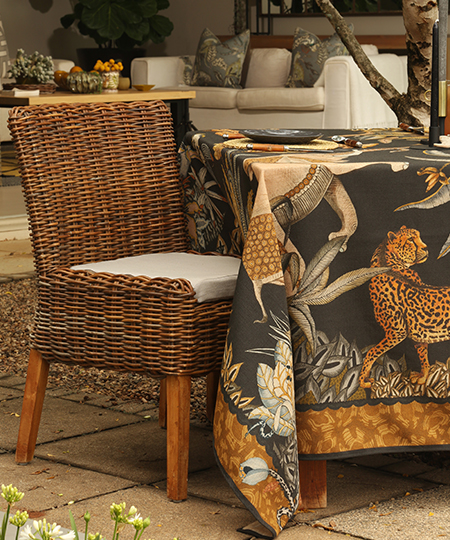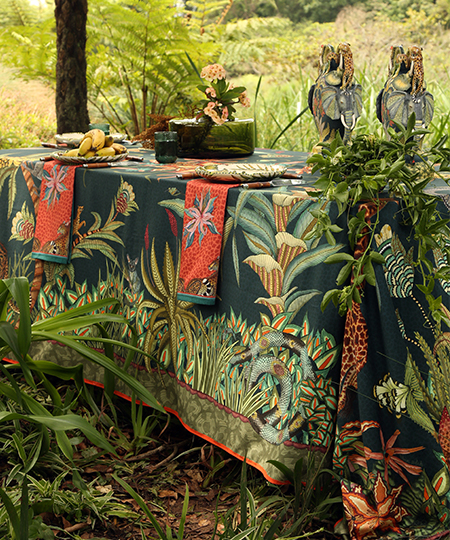 Ngala Trading and long-term South African brand partner, Ardmore, are expanding upon its iconic wildlife patterns by introducing a new tabletop collection including tablecloths, napkins, coasters, and hard-board placemats. Inspired largely by the Sabie region of South Africa, the designs depict a never-ending tapestry of lush foliage concealing camouflaged creatures.
The Sabie region is an area where light, sound, movement, and color constantly shift and change. This artistic expression of abundance is shown in rich colorways that showcase deep blues and lush greens, while also offered in new toned-down, monochromatic colorway such as gold and charcoal that depict the calm and stillness of moonlight. The collection expands upon the wildlife seen in the Sabie region with artwork showcasing the elusive and regal cheetah, slender genet, and nocturnal bush babies.
"The vibrancy and richness of these intricate designs are the perfect wanderlust addition to our tabletops as we look forward to warm gatherings and dining experiences with loved ones and friends," says Lawson Ricketts, creative director, and co-founder of Ngala Trading.
Ngala Trading is a leading resource to North America's premier boutique home furnishing stores and interior design firms for their lighting, furniture, décor, and accessories requirements. Visit Ngala Trading at 200 Lex to view Ardmore Design's new collection of linens in Suite 406.