SHOWROOM NEWS
The Rug Company Launches Collection with Mary Katrantzou
Following the success of Fantastical Florals in 2019, fashion designer Mary Katrantzou collaborated with The Rug Company once more to create a new collection, A Life In Pattern.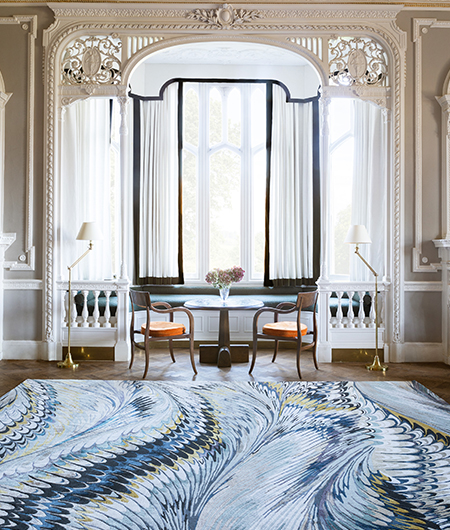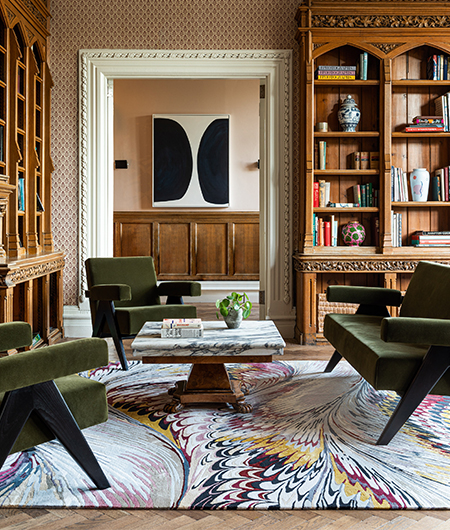 A Life in Pattern, showcases two new designs in two colorways, illustrating Katrantzou's visionary nature and dedication to print.
"By drawing inspiration from our archival prints, our intention is to create beautiful rugs that resemble works of Art and permeate a sense of timelessness in one's space." – Mary Katrantzou.
Sophistication meets psychedelia in Feather Marble, as swathes of ombré tones rhythmically move across the face of the rug. Inspired by Katrantzou's AW19 collection, which examined the four classical elements of Ionian philosophy, this design is reminiscent of air. Crafted in a balance of wool and silk, Feather Marble captures the delicacy and agility of the element while also presenting a richness of colors.
Available in two colorways, Feather Marble Maroon exhibits earthy tones and deep purple hues, while Feather Marble Midnight features a lighter palette of blues and neutrals.
Characterized by its energetic nature, Splatter Bright presents a kaleidoscope of paint splashes – offering a nod to Jackson Pollock's emblematic style. Crafted entirely in wool to emphasize the unity of the paint marks, this design explores the beauty of spontaneity and free expression.
Splatter Silver similarly features the iconic Abstract Expressionist 'drip technique', while offering muted grey tones for a versatile look. A move from Katrantzou's typical bright style, this design draws inspiration from her AW13 collection, which highlighted form and shape over color. Accents of silk lift the monochrome palette, offering a more layered effect than its colorful counterpart.
Check out Mary Katrantzou's collection A Life in Pattern and visit The Rug Company on the 15th Floor of 200 Lex in Suite 1515.