SHOWROOM NEWS
The Sarabande Collection from The Rug Company
View The Rug Company's newly launched collection of unique rug designs that celebrates the work of five creatives who are supported by The Sarbande Foundation.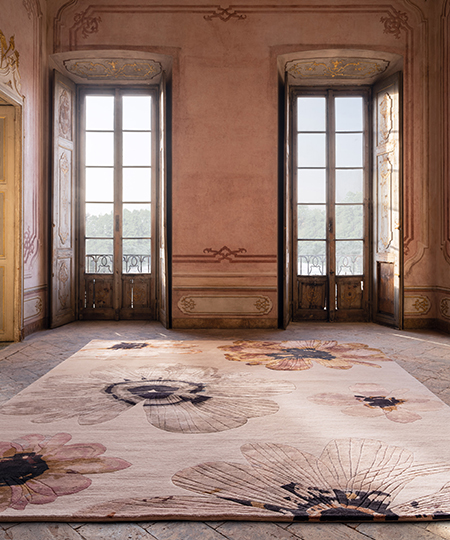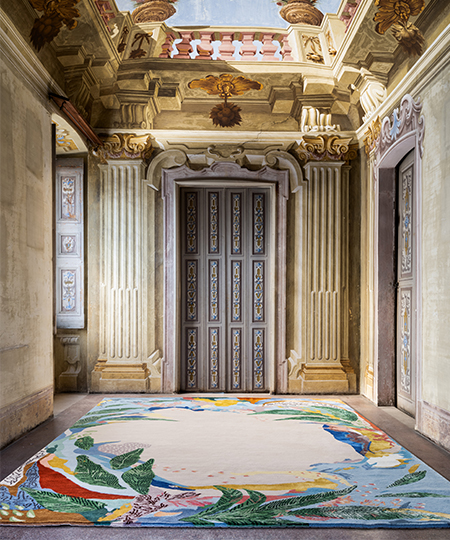 With an unparalleled devotion to craftsmanship and the arts, The Rug Company has collaborated with the Sarabande Foundation – the charity established by Lee Alexander McQueen in London to champion bold creativity, empower craftsmanship and support the next generation of artists and designers from around the globe – to produce five new designs.
The unique collection of rug designs celebrates the work of five outstanding, independent creatives who have been supported by the Sarabande Foundation – each a master of their craft.
The Rug Company worked alongside each of these five artists from different disciplines to create art pieces for the floor, transposing their individual visions into this masterful collection.
Each rug reflects the unique skill or creative art of its designer – delicate paintings are transposed on to silk and wool rugs, while a silversmith's hammering and chasing skills are transformed into a hand-carved silk design, with every rug demonstrating the phenomenal skills of artists without limits.
Launching during The Rug Company's 25th anniversary, this collection is symbolic of The Rug Company ethos, representing the importance of keeping craft and community alive.
Lee Alexander McQueen was an artist and visionary. It is through his generosity that Sarabande is able to continue his legacy, supporting those who have incredible talent and artistic ability, those willing to push boundaries and overturn prevailing orthodoxies. With Lee's vision and direction, Sarabande has changed the lives of more than 130 artists and designers through scholarships and heavily-subsidized studio space.
In addition, The Rug Company invites you to a preview of the new Sarabande Foundation collection with the participating artists on Wednesday, May 4th from 2:00pm-5:00pm. Meet the artists, alumni of the Sarabande Foundation, and learn more about their inspiration and craftmanship behind these five new rug designs.
Visit The Rug Company on the 15th Floor of the New York Design Center to get an in-person look at their beautiful new collection.