SHOWROOM NEWS
de Le Cuona Introduces Fabled Fibre Collection
Fabled Fibre is a collection of five carefully crafted linen cloths. Discover the story here.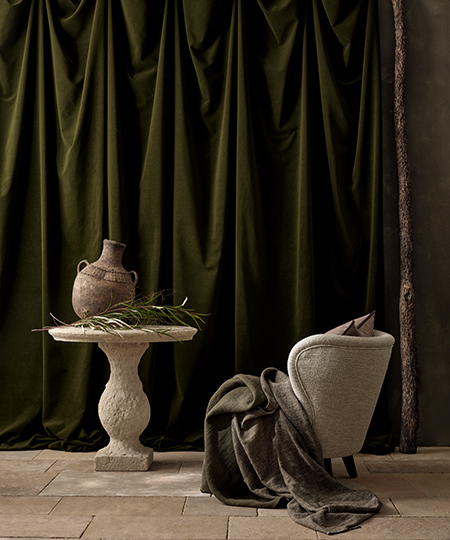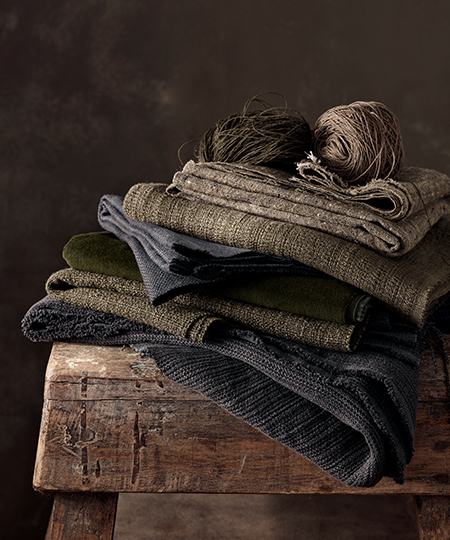 Linen is a storied cloth woven from flax, with a history that extends to antiquity. It is the oldest fibre known to man and the most sustainable. Fabled Fibre is a new collection of five beautifully crafted linens each with a tale to tell and created to be treasured over time. Simple weave structures are transformed, and complex weaves are enhanced by linen yarns spun and dyed by artisans. The result is a collection of fabrics with depth of texture and colour in a range of structures and finishes from a diaphanous sheer to slubby linens and robust upholstery cloths.
Creating an informal elegance that exudes comfort these fabrics have a raw and earthy authenticity. Comprising the collection are two upholstery cloths, a versatile fabric for both drapes and upholstery, and two sheers. Rich, natural mineral tones of madder and indigo sit alongside a malty neutral palette of smoke, wood, and shale.
Showcasing the importance of forming longer and stronger connections to our belongings, the Fabled Fibre collection transcends trends and generations. Where cherished cloths with legacy and integrity speak a language of the finest natural linen fibres.
Limestone:
A heavy-weight linen cloth with a rugged gravelly texture reminiscent of the strata found in cracked limestone. This striking tonal effect is created using yarns of subtly contrasting neutral shades in varying thicknesses spun to enhance the naturally occurring irregularities of linen. Very durable yet with a soft and supple handle ideal for upholstery, walling, or curtains, it's available in four geological shades to create a feeling of natural comfort in any space.
Bison:
Inspired by the strength and resilience of the Bison, this tightly woven, tactile linen has a ribbed texture. It is a piece of art created through the artisanship of the spun yarn, the craft of weaving, and the finishing process. The perfect upholstery cloth, this heavy and robust fabric will last a lifetime and bring strength to any room. Available in seven rich shades of natural mineral tones.
Cave Cloth:
Slubby artisan linen yarns of contrasting shades combine to create a subtle tweedy cloth reminiscent of gentleman's tailoring. Relaxed yet refined Cave Cloth highlights the beauty of raw fibres. Natural irregularities add character and texture to this medium-weight, versatile fabric that would work just as well in contemporary or classic schemes. Available in six earthy neutral colours.
Mural: 
The finest flax is woven in Italy to create this 100% linen wide width sheer. Specialist melange yarns are spun with subtle flecks of colours to create an abstract painterly effect. The finished fabric has a dry hand and the firm structure of horsehair. It holds its shape well and would work as blinds, but also drapes beautifully and is available in two celestial shades.
Luna Moth:
A 100% linen sheer with beautiful body and basket weave structure. Evocative of a translucent moth's wing the subtle texture catches the light beautifully. Perfect for sheer blinds and curtains Luna Moth is double width and available in two delicate mottled neutral shades.
Explore the entire collection at de Le Cuona on the 16th Floor of 200 Lex.