SHOWROOM NEWS
Introducing Sheila Bridges for The Shade Store
The Shade Store announces the launch of Sheila Bridges for The Shade Store, an exclusively designed collection of materials for light filtering and black out Roller Shades that reflect the celebrated designer's eclectic and worldly style.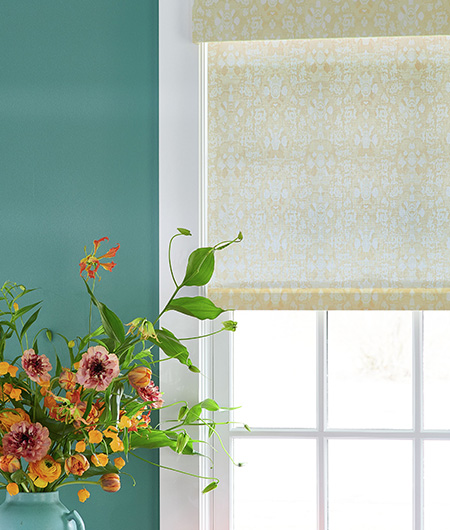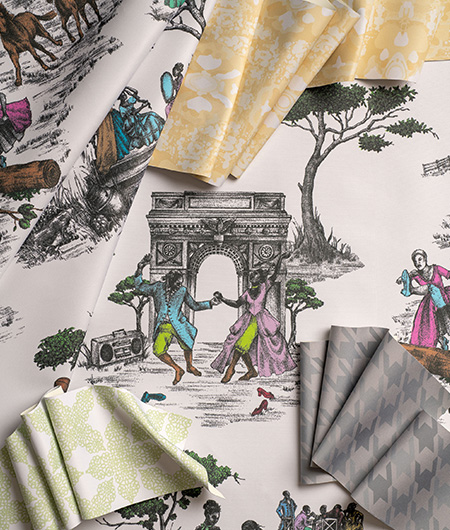 Featuring five beautiful patterns to elegantly bring any space's story to life, the collection includes a curated palette of classical and historical hues that experiment with color and scale for the new roller shade materials. Cool blues and greens, along with neutral grays and subtle yellows are the backdrop for timeless designs such as IKAT and Houndstooth. The collection also marks the debut of Sheila's iconic Harlem Toile de Jouy pattern for finished window treatments. The pattern was born from Sheila's search for a toile that felt authentic to her personal experience. The illustrations tell a story that celebrates Black culture while lampooning some commonly associated stereotypes.
"I am thrilled to have the opportunity to work with The Shade Store and share my design point of view with customers in a new home furnishings category," said Sheila Bridges. "So much of what makes a room interesting has to do with layering. I believe that rooms look unfinished until there is pattern or color. This collection highlights design elements and motifs that have inspired me over the years and brings them to the window."
HARLEM TOILE DE JOUY: Inspired by the historical narrative of the decorative arts, Harlem Toile de Jouy brings a unique take on the traditional French toile to windows everywhere. Harlem Toile De Jouy is available in 10 colors for Light Filtering and Blackout Roller Shades.
HOUNDSTOOTH: A nod to fashion, this classic duotone pattern adds a distinctive and timeless touch to the window. Houndstooth is available in five colors for Light Filtering Roller Shades.
IKAT: Featuring a unique design based on ikat textiles and carpets from around the world, this material complements every interior while adding a hint of color and pattern. IKAT is available in four colors for Light Filtering Roller Shades.
FLORENTINE: Inspired by Sheila's travels to the gardens and flower markets of Italy, this pattern is a subtle way to bring florals into every space. Florentine is available in four colors for Light Filtering Roller Shades.
PORRINGER: Intrigued by the decorative patterns of antique porringers at the Museum of the City of New York, Sheila transformed one of her favorites into this unique design — perfect for adding a touch of elegance to the window. Porringer is available in four colors for Blackout Roller Shades.
The collection is the first introduction from Sheila Bridges for The Shade Store and will be followed by fabrics for roman shades and drapery in late 2021. Now available within the Kravet Workspace showroom at the New York Design Center, suite 1201, and online at theshadestore.com. Schedule an appointment to order swatches or explore the full collection, here. Virtual assistance is also available.