SHOWROOM NEWS
Jennifer Manners Modern Carpets Now at 200 Lex
New year, new showroom! Jennifer Manners opens first US based showroom at the New York Design Center.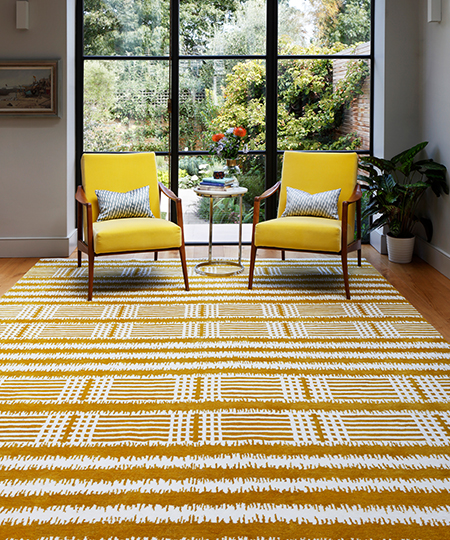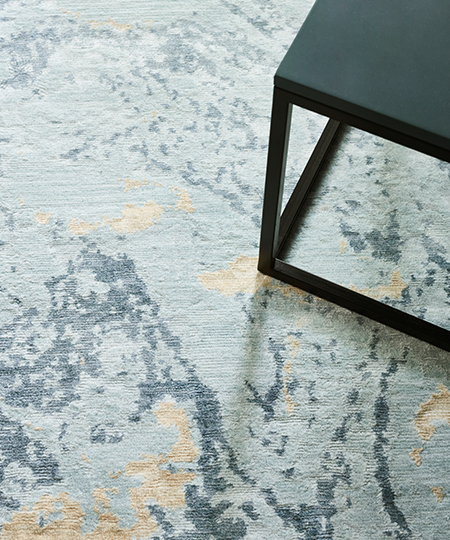 The bespoke British rug company Jennifer Manners opens its doors at 200 Lex this month.
Driven by the belief that design showrooms should be inspiring, the creative team at Jennifer Manners set out to create a sense of 'journey through color' within the long and narrow space at the New York Design Center. One-sided arches line the length of the space, creating 'rooms' that act as a visual delineation between spaces.
Olive green, aquamarine, cloud blue, plaster and linen painted spaces act as warm, soft backgrounds for the design studio's contemporary rugs hanging within each space.
"Rugs can be tricky to display and it takes discipline to fight the urge to just fill the walls and floors with rugs to show the variety of all we can do. Instead, we wanted the space to feel light and airy; like an art gallery" says Jennifer Manners, Founder and Creative Director.
Currently, the brand Repurpose rugs are on display, as well as its signature scalloped collections and the latest introduction, Pioneer. Displays will be changed regularly also, much like in an art gallery, to maintain a fresh and inspiring visual experience.
Jennifer Manners collaborated with fellow 200 Lex showroom Julian Chichester to furnish the entire showroom with their mid-century style furniture.
"The new Jennifer Manners showroom is a dynamic addition to the US market and specifically The New York Design Center. Both Jennifer and her unique designs will lend both excitement and versatility to the growing landscape of textiles in the building. We are pleased to welcome them to 200 Lex!" says Jim Druckman, President and CEO of the New York Design Center.
To celebrate the launch of their flagship US showroom at 200 Lex, Jennifer Manners invites you to an English Tea Party from 9:30am-12:30am on January 11th. Please RSVP to sarah@sarahboydco.com.
Stop by 200 Lex to discover the new space and all Jennifer Manners has to offer in Suite 911.