SHOWROOM NEWS
Ngala Trading Introduces Thanda Collection of Ardmore Fabrics
Ngala Trading and long-term South African brand partner Ardmore Home are pleased to debut the Thanda collection, a new range of cut yardage, pillows, upholstered goods and a limited-edition sofa.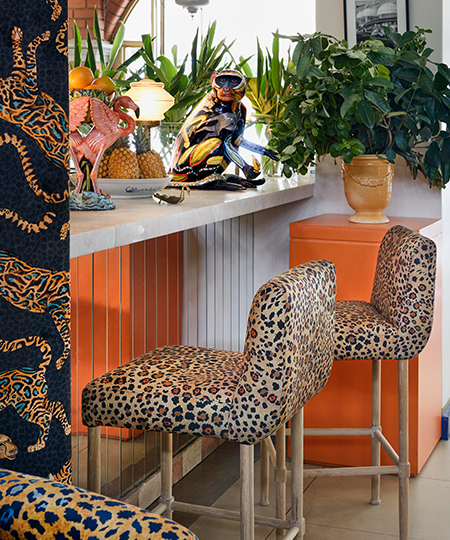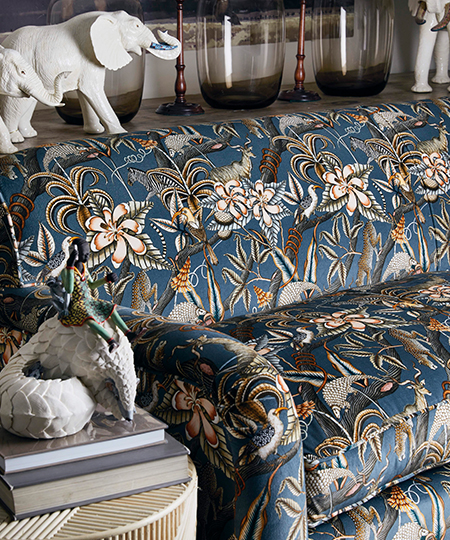 Made entirely in South Africa, the Thanda collection debuts in April 2023. Ardmore Home will produce 50 pieces of the Thanda limited edition sofa worldwide and will cease production once all are sold. The Thanda Collection expands upon Ardmore's iconic wildlife patterns that are derived from one-of-a-kind intricate works of ceramic art.
The Thanda patterns celebrate love and the closeness of family and friends as the world embarks on a post-pandemic era. Thanda, meaning "love", is a game lodge in northern Kwazulu Natal, home to lush wildlife and a beautiful location where Ardmore founder Fée Halsted celebrated the marriage of her son in 2020. The patterns seen in the Thanda collection are brought to life through personal stories and experiences created within the region.
The collection's five new patterns are described as follows:
Thanda Nests: Thanda Nests tells the story of African summers when male weaver birds work tirelessly building many nests until its bride accepts a nest suitable to raise their future family. Available in linen, velvet and outdoor fabric, Thanda Nests represents the sanctuary that is our homes, and the nurturing love they provide our families. Colorways include midnight, delta and plum.
Pangolin Park: The pangolin is the star of the collection's most robust pattern. It is Ardmore artists' tribute to the rare and endangered pangolin, which has regretfully been highly trafficked for its scales. In African culture it symbolizes protection. Pangolin Park comes in a vast array of six colorways, plum, rust, silver, chalk, night and ash, and is offered in velvet, linen and outdoor fabric.
Safari Spot: Ardmore's take on a timeless leopard print, Safari Spot is available in two colorways, midnight and gold, and two fabric substrates, linen and velvet.
Thanda Toile: Available in three colorways, plum, stone, and tanzanite, Thanda Toile represents the common sightings on an evening game drive through the Thanda reserve, known for its densely populated array of habitants including elephants, giraffes, zebras and rhinos. Thanda Toile is offered in linen and outdoor performance fabric.
Thanda Tortoise: Available in two colorways, silver and plum, Thanda Tortoise is an interpretation of the leopard tortoises' shell and their instinct to retract into their safe home, shielded from outside harm.
Visit Ngala Trading on the 4th Floor of the New York Design Center.