SHOWROOM NEWS
The Rug Company Teams Up with Rodarte
The Rug Company has once again partnered with Kate and Laura Mulleavy of fashion brand Rodarte to introduce two new rugs, California Poppy and Daphne. The new introductions build on Rodarte's initial collaboration with The Rug Company including four abstract designs, launched in 2014.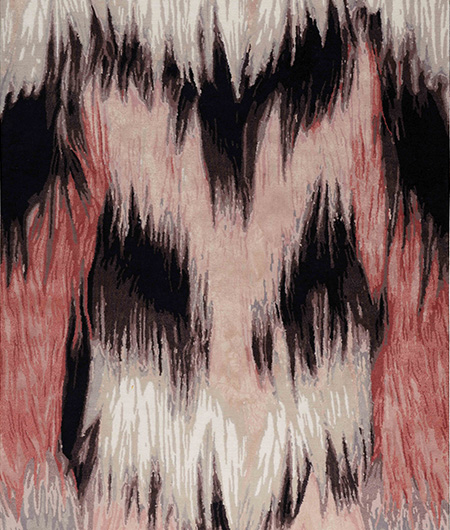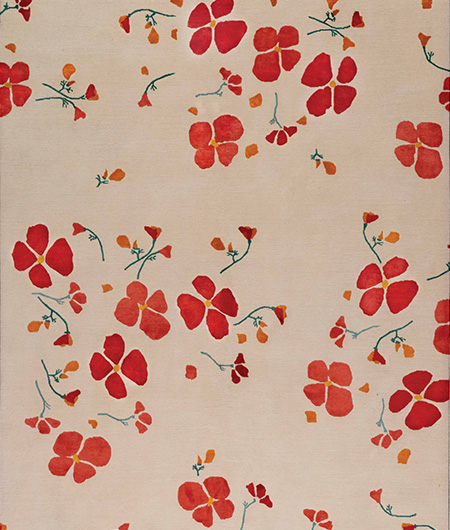 Designers Kate and Laura, internationally recognized for their conceptual and ethereal fashion designs, first collaborated with The Rug Company to depict their iconic style. The latest, California Poppy and Daphne, still maintains Rodarte's unique approach while exploring a deeper sense of nostalgia and admiration for the home.
"We found our mother's paper cuts of California poppies when we were young and saved it, knowing how special the artwork was. Since then, California and the poppies have become a constant theme of reference for us," Kate and Laura Mulleavy explain.
The eponymous California Poppy features striking red and orange petals, with delicate green stems that float across the natural wool background. This poppy design is archetypal to Rodarte and was originally inspired by their mother's artwork, which applied a cut-out technique to form the poppy pattern – not dissimilar in style to Matisse. While the poppy is also emblematic of home in a broader sense, representing California as the state flower. Crafted with a soft wool base and highlighted with silk, the gentle floral motif gleams like a bloom in sunlight. This dispersed design insights a sense of freedom, memorializing the sister's admiration for their childhood home.
Daphne on the other hand, illustrates a dramatic, romantic and nostalgic flair. With a clear nod to the 70s, Daphne is reminiscent of the shag rug iconic to the era, offering a sense of undeniable escapism. A lesser-known inspiration is the Daphnis moth, who's symmetrical pattern and intricate markings appealed to the sister's furious imagination. To capture the delicacy of a wing, the rug has been woven with the finest silk and wool, creating a compact rich texture, while appearing feathery and unrestrained. Contrasting tones seamlessly combine throughout the design, with the lustre of silk inspiring the illusion of a wing in motion.
Los Angeles based designers Kate and Laura Mulleavy founded Rodarte in 2005 and are internationally known for their artistic approach to design and their ability to find inspiration in the unusual, mixing high couture, modern femininity, and California influences in their collections with entrancing ease. Rodarte's designs for The Rug Company are expressions of their interest in exploring other art forms.
Learn more about the new collection for The Rug Company here, and contact the showroom today to see the designs in-person at the New York Design Center showroom, suite 1515.