SHOWROOM NEWS
The Rug Company x Diane Von Furstenberg: On The Wild Side
Diane von Furstenberg, celebrated for her bold animal prints and iconic design, brings her signature style to her latest collection with The Rug Company. On the Wild Side is a collection consisting of five vibrant handcrafted rugs.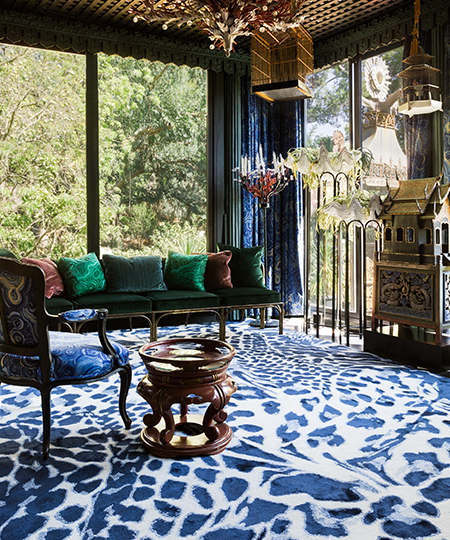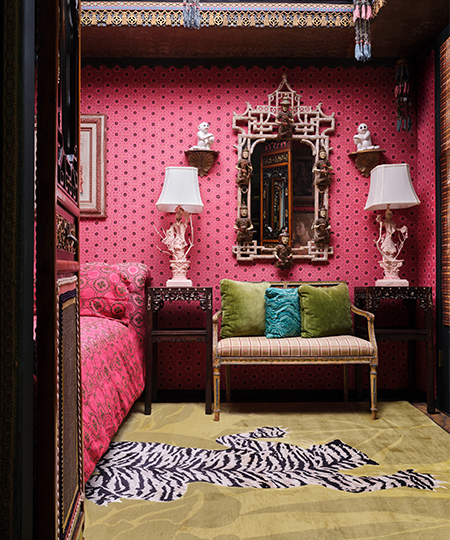 The collection pays homage to Diane von Furstenberg's most powerful prints, drawing inspiration from the brand's archival trove of patterns. Each rug transposes a signature DVF dress into a striking design for the floor, featuring iconic motifs such as the instantly recognisable giraffe design and the colourful leopard print which has adorned many of her pieces.
Wild and untamed, Animalia features a seductive leopard print motif symbolic of The Rug Company and Diane von Furstenberg's ongoing collaboration, dating back to 2003. Crafted in a fusion of wool and silk, this rug features vibrant indigo and cobalt hues. The swirling motif has been adapted from DVF's 2014 Ready-to-Wear collection, which encouraged a sense of joie de vivre in this unpredictable world.
First seen as a runner in 2005, Climbing Leopard, the bestselling design reintroduced in 2008, now includes a further two playful cubs in the fresh adaptation of Climbing Cubs. Handwoven entirely in silk, the whimsical motif sits against a light pink, perfect for introducing a sense of playfulness into a space. Further, paying homage to von Furstenberg's passion for wildlife, this design has been crafted in support of Snow Leopards at the World Wildlife Foundation (WWF), with the promise that 10% of all sales will be donated to protect the endangered species of snow leopards.
As its name suggests, Kaleidoscope Leopard features 22 bold colours inspired by a collage of news headlines. The colourful animal print motif has been woven entirely in wool; however, the clever layering of tones creates a trompe-l'oeil effect where the design appears to jump off the rug.
Giraffe Dusk encapsulates the sense of empowerment associated with the original wrap dress design. Crafted entirely in Handknotted Tibetan wool, the dappled navy motif is highlighted by accents of pure white wool, which encourages a sense of movement across the rug. An early 70s print classic in longevity gives a new meaning to neutrals.
Climbing Tiger features a fierce tiger motif, adapted from a vintage Diane von Furstenberg design. Crafted entirely in silk, this rug showcases her colour mastery, as tropical palm fronds in the background are formed through yellow hues and create a shadowed effect. Layered above is the Tiger, whose stripes have been carefully woven in three silk tones to create the effect of a slow crawl.
On the Wild Side was photographed in the historic landmark of Dawn Ridge in Beverly Hills, Los Angeles, designed by the legendary artist Tony Duquette. Tony Duquette was renowned for his designs for film and set, and his home is a shrine to the bold, bright, theatrical and exotic with an untamed garden full of unique treasures. The Rug Company and the Diane von Furstenberg team felt the house's spirit of creativity and bold maximalism was the perfect synergetic setting to showcase this collection.
All the designs in this collection have been woven by The Rug Company's expert craftspeople, with the finest wool and silk. The collection is available at The Rug Company on the 15th Floor of 200 Lex.