SHOWROOM NEWS
Wexler Gallery Introduces Treasures Untold Collection by Feyza Kemahlioglu
Treasures Untold is a new lighting collection, débuting originally at Design Miami 2022.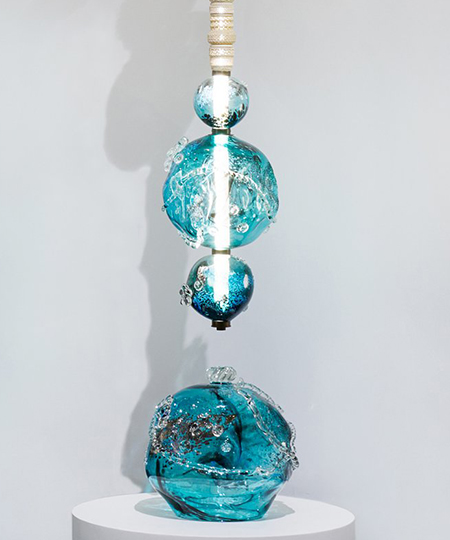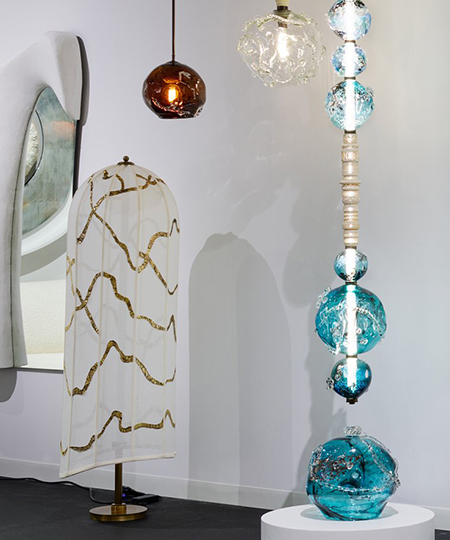 Treasures Untold  by Feyza Kemalioglu  is born out of a fascination with mythical stories about mermaids, shipwrecks and treasure hunts, and her deeply rooted connection to the Aegean Sea. The pendants are composed of glass globes shaped by hand to resemble rocks, full of texture and patterns made by colored glass frit and crystals.
In the Gem Pendant, the colors shift from white to turquoise to a darker hue of lagoon, diving deeper into the divine sea. The white globes encrusted with small crystals resemble seafoam and waves crashing onto the sand. The turquoise and lagoon pieces with swirls, speckles, barnacles, and sea flowers circling the globes take one underwater to examine coral reefs, finding seashells, colorful fish and a ship's rope tangled around a giant rock. The glass boulder beneath the fixture is a continuation of the pendant, creating a visual break reminiscent of broken-down ruins. This exquisite piece is perfect for a staircase, an entryway or to activate a corner space.
The Aegean Pendant is composed of a large clear glass globe, emphasizing the embellished aquatic details. It would make a striking impact in a dining room or living area.
The Rocky Pendant, perfect as a pair over bedside tables, is a rich amber color with floral and leaf motifs in the glass and a hidden meerschaum piece within.
The Golden Waves Floor Lamp, which incorporates unique, original designs hand-crafted using the centuries-old Tel Sarma (gold wire) embroidery technique. In this new material investigation, Feyza has designed the embroidered gold wire into a modern, organic wave pattern, creating trails that cross and wrap around the fabric of the lamp.