Editorial Features
Access to Design Designers in the 2018 Kips Bay Show House
Sasha Bikoff and Stefan Steil did not let untraditional rooms in the 2018 Kips Bay Show House hold them back. Both Access to Design designers shined, quite literally, in their 2018 Kips Bay Show House debut.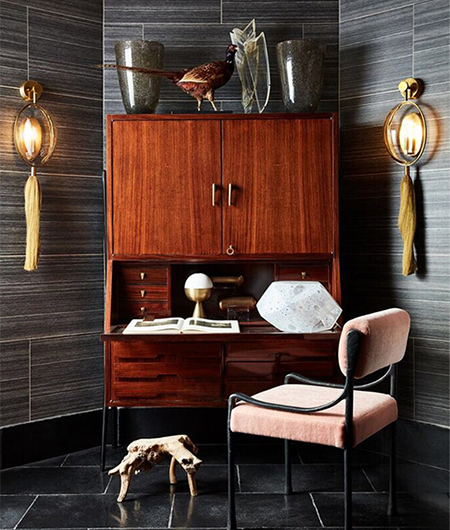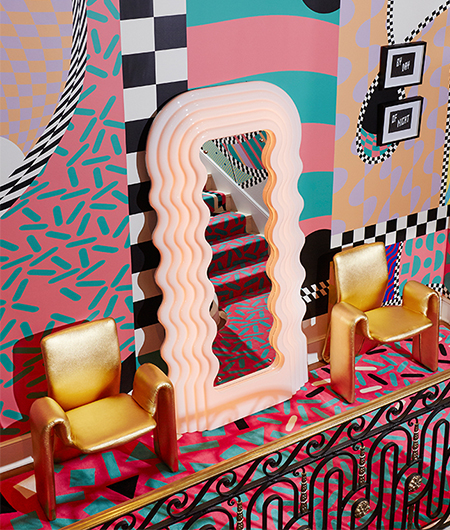 Bikoff, who was presented with a five-story high staircase, turned to the 1980s and her love of Memphis-Milano design for inspiration, and didn't leave a spot untouched. Working with Voutsa, Bikoff transformed the walls with wallcoverings of brightly colored geometric patterns with zigzags, polka dots, and triangles, adorned with vintage Murano sconces from Cosulich. The stairs were topped in an equally eye-catching custom runner by The Rug Company. To match the retro walls and stairs the designer dug deep into the archives of Farrow & Ball for canary gloss ceilings with blue and lime green moldings.
Having begun her career at Gagosian Gallery in Chelsea, Bikoff applied her knowledge of art to the space, covering the walls with blown-up polaroids of supermodels, rappers, and popstars, as well as mirrors from Chris Schanck and Misha Kahn, and a considerable amount of art loaned by the Friedman Benda Gallery. "The art brought my space into modern day in a bright and glamorous way," the designer said. A favorite: The glowing Ultrafragola Mirror by Ettore Sottsass from Property.
Faced with an L-shaped space, Steil was also inspired by the 1980s. His room was a nod to the 1985 Merchant-Ivory film, "A Room with a View," and its lush Italian romance. An over-sized photograph by Markus Brunetti of Cattedrale di Santa Maria Assunta in Sienna set the tone for the blush pink, gold, and black colors Steil used.
Emphasizing natural elements, the designer hand-tore wallpaper into rectangular pieces to create perfectly imperfect edges reminiscent of a classical stone wall. The ceiling gave the illusion of looking into the sky with a branch pattern and ethereal, cloud-like light fixtures made of polymer resin. "More than anything, the space reinforces an appreciation for the constant interaction between indoors and out, and the notion that there is always something to admire in each," Steil said.
As for their finished results, both designers agree that seeing their vision come to life was a thrill. "Watching the space transform into this technicolor dream was amazing to both design and witness," Bikoff said.